Call or email us TODAY for your FREE estimate.
Our Professional Tree Removal Experts will come to your house and walk you through the process of removing your problem trees
Expert Tree Removal, Storm Damage, Pruning and more
services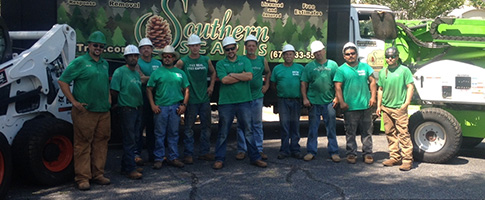 Family Owned and Operated for 12 Years
Since the early 2000's Jeremy leigh started Southern Scapes he has pride himself in not only implementing OSHA's current and most up to date safety regulations but also investing in our guys and their families. We operate our business as a drug free workplace, each employee is a US citizen, and we also employ local veterans in our area. Most of the guys here with us today have been with us for years and feel more like family than anything else. We hope you give us a chance and can show you what we are capable of with your trust in our guys & company.
Our Tree Removal Experts
We will take care of you!
What Our Customers Say
testimonials
This was a great experience. Jeremy was extremely good at getting out to give us the estimate. And the work was started promptly. The entire crew was polite, friendly and our yard and cul de sac area was all kept clean. We had received multiple quotes and Southern Scapes may not always be the least expensive, but in my experience with them (we have used them for work in the past) I can say the bit of extra cost is so well worth it. The trees came down, the stumps were ground and the finished product, you would have never guessed those great big pods of trees were even there!
Just wanted to let you know that your crew did a great job yesterday on the Hickory tree in our front yard on Buckeye Lane. They were friendly, efficient, neat, and really nice to my little boy Kellan. Kellan was being a helper, was even paid for his effort, and wanted a picture of him and the "squad". Your crew happily obliged so I sent the picture. Kellan said "Mama, it's my first REAL job!". He's autistic and it meant a lot to him to feel like part of the team so your crew's kindness to him was just wonderful! Thanks again for the fast and efficient service!
Went great. Cleared ditch line, side yard and west side of ditch. Cut numerous trees, cleared brush, chipped debris, removed larger logs, bush hogged, raked and swept area. Great job. Would use again for any tree removal, brush removal or area clearing services.
$50 OFF
To our first responders and military
Are you a first responder or military?
In honor of your bravery and hard work Southern Scapes offers a 5% discount too all our service men and women.